At Trans-Sped Group, work is continuous also in the case of transportation. This means that Ákos Horváth regularly journeys from Tata to the Czech Republic with his truck.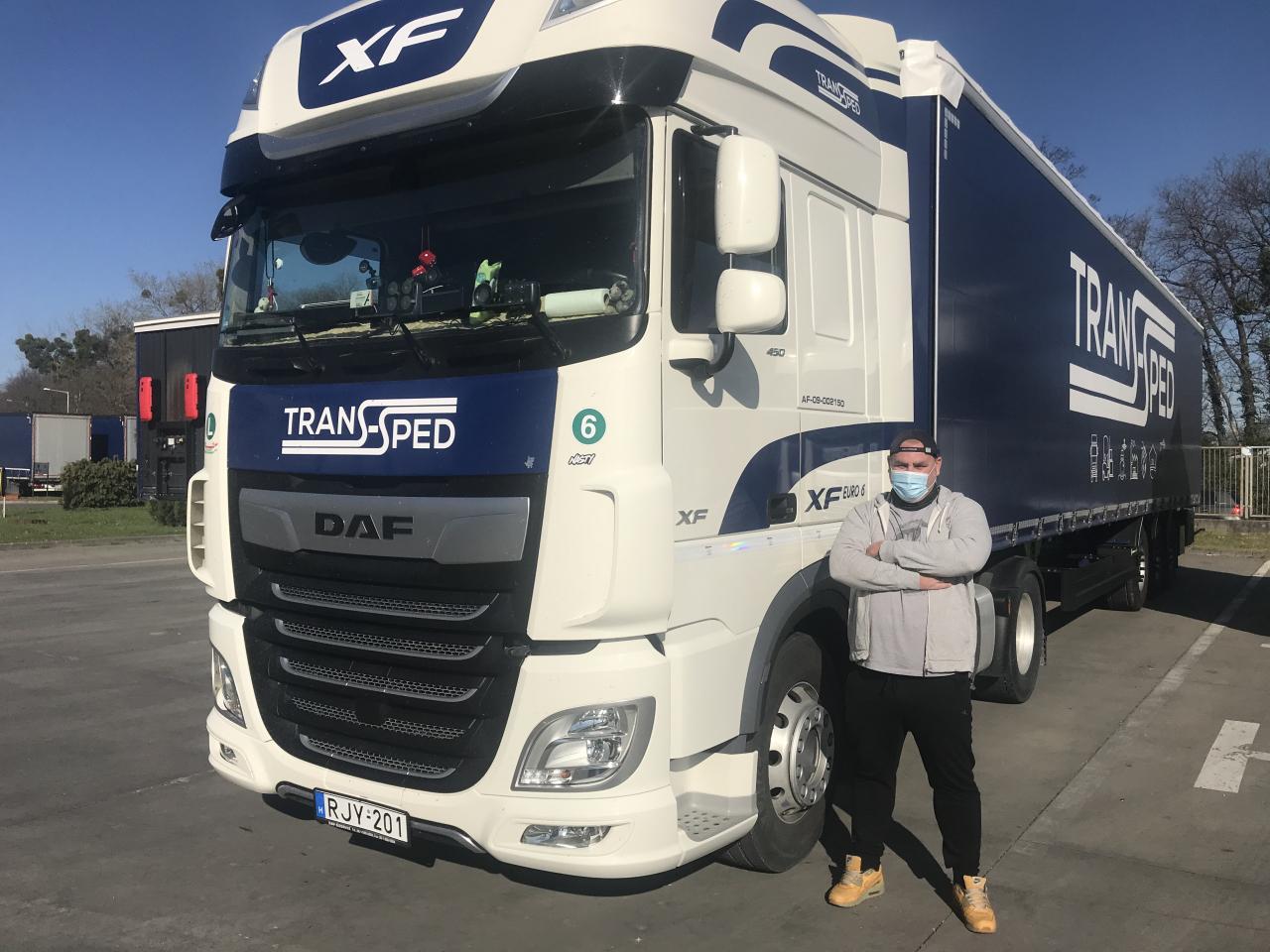 The drivers, aka the everyday heroes of Trans-Sped ensure that their partners' products reach their destination even while you read this. Spring is approaching with wonderful sunshine, however, most of us sit at home and wait for the danger to go away. At the same time, we can be sure that people working in logistics will do their utmost to ensure that freight forwarding holds its own and the supply chains do not stop. We asked Ákos Horváth to tell us about the changes affecting transportation and what it is like to be a truck driver now.
Besides the fact that we work in different than usual conditions, we also need to mention the good things we haven't encountered before – said Ákos Horváth, international truck driver at Trans-Sped. – For example, I was recently greeted with a nice message and a bar of chocolate at one of the partner companies as thanks for my efforts.
Ákos also talked about the changes he noticed on the roads.
There is noticeably less traffic on the roads and highways, which makes everything easier. Another positive is that our company provides us with the right tools to rule out as much as possible the risk of the virus spreading among each other.

We asked him about the strangest differences as well. He highlighted two things. – Previously I would have found it inconceivable that the shower room at my preferred gas station could be closed or that I should see padlocks on public restrooms. But we have to accept these measures, these are, in fact, here to help us.

However, one does not have to give up showering as there are still gas stations where one can take a shower. Ákos adds that the temporary closure of restaurants and accommodations can also cause inconvenience. – As difficult as it may be, it is good that the employer helps us as a family to get through the current situation.
And the employer is not the only one to be grateful for the role drivers play in transporting goods and maintaining supply chains, as partner companies also appreciate their efforts. Several of these companies, such as Lidl Hungary or CHEP ESPAÑA, have sent letters thanking them for carrying out their work reliably and with high quality even in this difficult situation, which is essential for them to continue their activities.