Az alábbi pozíciókba folyamatosan, hosszú távra keres elkötelezett munkatársakat a Trans-Sped. Jelenleg az alábbi területeken várjuk leendő kollégáink jelentkezését.
---
A Trans-Sped egy dinamikusan fejlődő, országos telephely hálózattal rendelkező, a teljes logisztikai szolgáltatási palettát lefedő cégcsoport, amely kiemelt hangsúlyt fektet munkavállalói kiválasztására, képzésére és továbbképzésére.
---
A Trans-Sped értékei között kiemelt szerepet kapnak a munkatársak, akik szakértelemmel és kitartással végzik munkájukat, segítenek a megbízók problémáinak megoldásában, s így hozzájárulnak a Trans-Sped jó hírének öregbítéséhez. Ezért kollégáink közé a logisztikai szolgáltatások iránt elhivatott embereket keresünk, akik megbízhatóan és körültekintően végzik munkájukat.

A cégcsoport dolgozói számára az alábbiakat biztosítja:
a megbízható, kiszámítható, stabil vállalati hátteret
nagyvállalati környezetet, mégis családias légkört
versenyképes juttatási csomagot
modern munkahelyi környezetet
folyamatosan megújuló tehergépjármű és eszközparkot
tanulási, előrejutási, illetve átképzési lehetőségeket
informatikai támogatottságot
mobiltelefont
magas minőségű védő- és munkavédelmi eszközökkel való ellátást
Versenyképes fizetés
Tanulási, előrejutási, és átképzési lehetőségek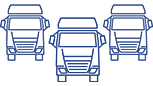 Folyamatosan megújuló tehergépjármű és eszközpark
I WOULD LIKE TO BE A SUBCONTRACTOR
Our subcontractors and suppliers are commercial or service companies who directly support the activities of the company with their products and services within the framework of a contractual relationship.
In the course of its logistics and industrial park operation activities Trans-Sped Group enlists equipment-related services of external suppliers and subcontractors in the following areas:
material handling equipment, elevators: forklifts, bale lifters, cranes – procurement and maintenance
road and rail freight equipment, infrastructure: vehicles, railway infrastructure, component parts, fuels – procurement, repair, servicing, maintenance
production logistics equipment: high value equipment necessary for the activities of the Tiszaújváros polymer logistics branch – maintenance, repair
telecommunications, IT: computers, printers, faxes, scanners, landline and mobile telephones – procurement, repair, operation
office equipment
measuring devices: measuring devices and recording equipment used in performing logistics services – procurement, calibration, authentication
industrial park and logistics service centre infrastructure
other subcontractors providing logistics services: for services requiring external capacity or periodic services
contractor selection: the selection of the contractor most suitable for the full execution of the tasks ordered by the client
transportation and freight forwarding subcontractors
Transportation and freight forwarding subcontractors
Trans-Sped employs subcontractors on the basis of an engagement contract. Our partners are contracted to perform a single task, while the vehicles of our permanent subcontractors are continuously at Trans-Sped's disposal under the supervision of the company's transportation coordinators.
Each of our permanent subcontractors is in direct contact with one of our transportation coordinators, who delivers them the tasks to be performed and assists them in their appropriate execution. The subcontractors' vehicles are continuously employed in the same manner as Trans-Sped's own vehicles.
Who can be a transportation and freight forwarding subcontractor of Trans-Sped?
The person or company, who/which owns a vehicle meeting the structural, technical and aesthetic requirements, and carries all licences necessary for performing the required activities.
Which documents are needed?
operating licence
community licence
BÁF/CMR insurance and their collateral certificate
vehicle and trailer licence
two reliable references from past partners
What further steps are needed for a subcontractor to enter in a partnership with Trans-Sped?
In addition to the possession of the abovementioned documents it is necessary to fill the Company Data Form.
We add the subcontractor to our circle of partners based on the data provided on the form.
How do the transportation and freight forwarding subcontractors get paid?
Trans-Sped settles transportation invoices made out for performed tasks according to the Rules of Public Road Shipping of Goods (KÁSZ), on the 30th day after the fulfilment of the performance in case of domestic transportation tasks, and on the 60th in case of international transportation tasks. The requirements of payment are that the invoice is made out as stated in the contract, and all annexes and documents are attached as necessary.
Evaluation of transportation and freight forwarder subcontractors
We evaluate our partners based on the following criteria:
accuracy of transportation, discipline
adherence to agreed price
behaviour of the vehicle's driver
were there any quality complaints related to the execution of a given task?
if yes, the ability to handle the complaint
What can Trans-Sped offer to its partners?
steady and continuous work under the name of a well-known and renowned company of the transportation market providing complex logistics services
professional coordination by transportation coordinators with proper professional background and expertises
payment on time
an opportunity to join Trans-Sped's mobile fleet, which entails free of charge telephone and text messaging service within the fleet, while for other uses it offers discount rates.